Too Big A Gamble For Porter?
While Major League Soccer just kicked off its 17th season, something more important might have slipped past many soccer fans. US under-23 coach Caleb Porter announced his 20-man squad for the CONCACAF qualifying tournament which gets underway next week.
MLS has grown to 19 teams and has brought in a considerable number of quality players and has welcomed media giant NBC to the broadcast family. That's all good for the current status of the sport. However, the future of US soccer will be on display with the u-23 team as they try to complete the march towards London 2012.
Porter has obviously received the blessing of new US national team boss Jurgen Klinsmann, but his roster decisions make Klinsi look downright conservative in comparison. There is only one true center back on the team. In fact, there are few true defenders. Porter praises the versatility of the players on the squad and says he is confident they can get the job done. This is not an attack on his decisions. Rather, it's a double-take, and a realization that this summer's qualification should be "edge-of-the-seat" interesting.
On the other hand, what Porter might describe as confidence can also be looked at as cockiness, and a slap in the face of their CONCACAF foes. The US battles Cuba, Canada and El Salvador in the group stage of qualifying. If as expected they advance, the Yanks would likely square off against Honduras in the semifinals. A potential final against Mexico is relatively irrelevant as both finalists will be awarded the region's two Olympic berths. Getting to the CONCACAF Final is the prize. Anything less would be an Olympic-sized disaster.
There is plenty of talent on the US roster. A very promising sign for the future is the amount of quality talent that did not make the cut. However, from a pure numbers perspective, Porter is rolling the dice on defense. That could be fatal in the final group match and semifinal game when collars get tight.
In 2000, Clive Charles's 18-man qualifying roster contained two goalkeepers, five defenders, seven midfielders and just four forwards. Since 2004, rosters have increased to 20 players and then-coach Glenn Myernick used those extra spots to add two defenders. Peter Nowak followed suit in 2008 with the same formula of two keepers, seven defenders, seven midfielders and four forwards.
In comparison, Porter has called in goalkeepers Bill Hamid and Sean Johnson; Josh Gatt, Perry Kitchen, Ike Opara, Kofi Sarkodie, Zarek Valentin and Jorge Villafaña in defense; midfielders Freddy Adu, Joe Corona, Mix Diskerud, Jared Jeffrey, Amobi Okogu and Michael Stephens and forwards Juan Agudelo, Terrence Boyd, Teal Bunbury, Joseph Gyau, Brek Shea and Tony Taylor. That's two keepers, and six defenders, midfielders and forwards apiece. Look deeper and you find that Gatt, Kitchen and Villafaña are all traditionally positioned in the midfield or attack and you can see the gamble that Porter is taking.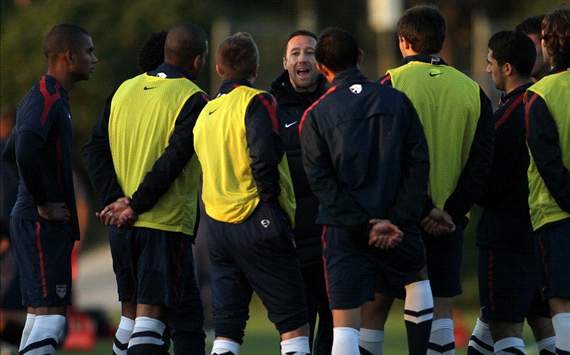 It's as though Porter wants a mentality as though it's post time at the Derby with players chomping at the bit to push forward. From an attacking perspective it's easy to imagine this US team pounding the opposition into submission, but Porter seems to have given himself limited cover, especially in case of injury. I've always been one that believed the US didn't take enough chances so I guess you could say Porter has called my bluff.
Judging from the performance of the starters against Mexico earlier this month in Frisco, his plan might just work. If so, it will be a big step towards that pro-active American style that Klinsmann espouses. If it fails, it won't kill soccer in the US, but it will be a cold realization that we can't just roll the ball out and expect to win. We are all about to find out if Porter truly is prepared for what is about to unfold. And I, for one, will be hoping it succeeds.
What do you think? Will it be a summer of American exceptionalism, or lost dreams? Let me know by commenting here and tweeting me @PhilSchoen.